Appledore from the River Torridge Sunset view from Pebble Ridge, The Torridge towards Bideford Tarka Morrismen
Home | Travel Info | Local Weather/Tide Times | Events | Things to do | Shops & Galleries | Restaurants/Cafes/Pubs
Local Views | Accommodation | Places of Worship | Latest Village News | Twinned Towns | Useful Contacts | Links
Links to latest news reports concerning Appledore village in North Devon
* See also Appledore Events *
** Please feel free to submit links to articles relating to Appledore **
15 Mar 2013 Appledore Visual Arts Festival
-------------------------------------------------------------------------------------------------------------------
Archived News:
10 Mar 2012 Appledore celebrates another warship milestone
01 Feb 2012 Great News for Appledore RNLI
18 Jan 2012 Up to 200 New Homes proposed for Appledore
01 Jul 2011 Appledore - Instow Ferry Resurrected HURRAH!
13 Oct 2008 Mail Online - "Ancient port whose ship is coming in" - Roy Hattersley's column
Now called 'Johns of Appledore' the newly refurbished building houses the Post Office and sells meat, fish and delicatessen products alongside other produce and gifts. Torridge District Council: Appledore Fish Dock progress
Ann gets divine help in search for jewels
27 Mar 08: Ann Sagar says God spoke to her in a dream to tell her where to find her lost diamond brooch.
Great News! The Appledore Post Office returns!
On Monday 28 April 2008 the new Appledore Post Office and Stores opened!
24 Oct 07: Plans concerning Richmond Dock, Appledore (North Devon Gazette)
The Kathleen & May (website)
No longer at Bideford - now in Liverpool. A sad loss for Bideford and North Devon ... but long may she sail the seas.
Geoffrey Cox's Website
Geoffrey Cox QC MP Torridge & West Devon, arranged for Steve Clark OBE (Kathleen & May owner) and Campaigners to meet Minister of State for Culture, Medium & Sport, Margaret Hodge, and present a petition of 8497 signatures from the local vicinity urging the Government to keep this wonderful historic vessel in her home port of Bideford.
---------------------------------------------------------------------------------------------------------------------------------------------------
Latest re Jackson Family Move to Appledore, North Devon & the Reality Show for Channel 4 that it's all about!
This section is just about the Jacksons:
The programme 'THE JACKSONS ARE COMING' will be on CHANNEL 4 'Cutting Edge' at 9.00 p.m. Thursday, 27th November.
YouTube Trailer for 'The Jacksons Are Coming'
UK TV Guide - The Jacksons Are Coming
The Daily Star - 23 Nov 08: 'BRITS' FURY AT JACKSONS OVER TV 'FREEBIES
The Times Online - 22 Nov 08: For six strange weeks the Jackson family tried out life in damp Devon. Now the story can be told
MJFC (Michael Jackson Fan Club) - 21 Nov 08: 'THE JACKSONS ARE COMING' TO AIR IN UK
This is North Devon - 21 Nov 08: 'Channel 4 says Jacksons in Appledore film is a tale of trust and betrayal'
Digital Spy - 5 Aug 08: Jackson 5 to reunite for awards bash? - 8th Annual Urban Awards, Beverley Hills
'Maximum Jackson' - 12 June 08: Michael Jackson phone call to Fan's Party
North Devon Gazette - 11 June 08: Jacko's Phone Call's a Thriller
Tito Jackson visits Appledore Charity Shop, Uncle Wainwright's on the Quay at Appledore!
No photos ... he just called in! Very nice chap.
The Times Online - 23 May 08: Jackson Five get cool in Devon - but is it a stunt for reality TV
Mail Online - 23 May 08: Blame it on the scrumpy: The Jacksons move to Devon, but squabble over their seaside house
North Devon Gazette - 22 May 08: Jacksons' First Taste of Appledore
Janet Charlton's Hollywood - 22 May 08: "Tito & Jackie Jackson are the biggest celebrities ever to live in this town"
North Devon Gazette - 21 May 08: 9 Members of Jackson family due to touch down in North Devon this evening
Sky News - 21 May 08: Jacksons Move Into New Devon Home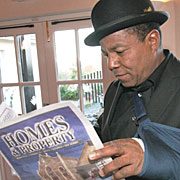 Sky News: Hollywood razzmatazz comes to sleepy Devon village ...
Michael Jackson & The Jacksons Party at the Durrant House Hotel: Tickets sold out! Go to online tickets here
Daily Telegraph: Michael Jackson clan to attend fan's party
North Devon Gazette: Welcome Bash for Jacksons?
Hello Magazine - 3 April 08: A 'thriller' for locals as Tito Jackson rents in Devon fishing village
------------------------------------------------------------------------------------------------------------------------------------
Jackson Family to move to Appledore??
Channel 4 Reality TV show planned for the Jackson Five family ...
Jacksons' friend Matt Fiddes (well known in North Devon for his Barnstaple Karate Academy) has been assisting the Jacksons with their plans.
Quote:
Tito Jackson and family will star in an Osbournes'-style reality TV show - set in an English fishing village.
The family have booked a five-bed holiday home at Appledore on the North Devon coast and have told friends they are looking to move to the area permanently.
Their deal, believed to be with Channel 4, will see Tito (pictured, left) based at the house with other family members - including Michael, Janet, Jermaine and parents Joseph and Katherine - flying in for short breaks.
Family friend Matt Fiddes, who operates a national martial arts training franchise, orchestrated the deal. 'The TV people will follow them from California to Appledore and make a documentary on how they settle in," he said.
"With Michael, you never know. He doesn't say too much. But I'll be very surprised if he doesn't show up too."

Channel 4 would not confirm its involvement in the At Home With The Jacksons TV project. But Appledore residents are already gearing up for their arrival.
One said, "As long as they keep the music down and avoid wild parties they'll get on fine."
Recent media articles have suggested the family is "broke."
Source: telegraph.co.uk
For more news on the Jackson Family's plans click on the following links:

Archived Village Events & News Items
Copyright © 1999-2013 Linda Smith
Last Updated April 2013