St Mary's Church Charity Shop
'Uncle Wainwright's'
14a The Quay, Appledore , Bideford, EX39 1QS
Tel: +44 (0)7803 160050


Click on the photo to go to webpage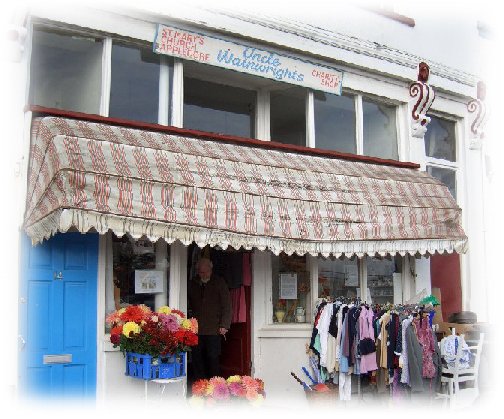 ~ ALADDIN'S CAVE WITH A VAST STOCK OF TREASURE! ~

Good quality clothes, bed linen, crockery, kitchenalia, lighting, lampshades, videos, cds, dvds, records, books, games, jigsaws, bric-a-brac, small items of furniture. Gifts, souvenirs, postcards, crabbing lines, fishing nets and
FRESH FLOWERS IN SUMMER!
Open Wed & Sat 10-4 (most days in August)
most BH Mondays & Appledore Festival Days
Appledore Quay Gift Shop
15b The Quay, Appledore, Bideford, EX39 1QS

Click on the photo to go to webpage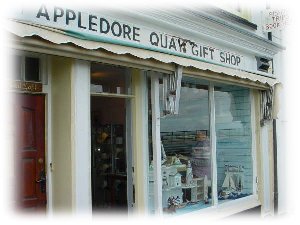 A wide range of china, glass, ceramics, art, pottery and other collectables, plus crabbing lines, buckets and spades, postcards, and other 'seaside' souvenirs are also stocked.
Johns of Appledore
incorporating the Post Office
7 The Quay, Appledore, Bideford, EX39 1QS
8am- 6pm 7 days a week. Tel: (+44)(0)1237 425870 or 429065.
In addition to the usual Post Office services, there is a good range of stationery items available and greetings cards.
The shop includes a delicatessen, fresh fruit, confectionary and a range of quality biscuits and preserves, as well as wines and spirits, newspapers and magazines.
Appledore Newsagency
6 Market street, Appledore, Bideford, EX39 1PW
Tel: +44 (0)1237 475213
All your newspapers and magazines from your local newsagent - and a friendly welcome too!
'JUST APPLEDORE'
Handmade Cards with Photographs
by Juliet Green
Tel: +44 (0)1237 425693
Appledore Crafts Company
5 Bude Street, Appledore, Bideford, EX39 1PS
Tel +44 (0)1237 423547
Click on the photo to go to webpage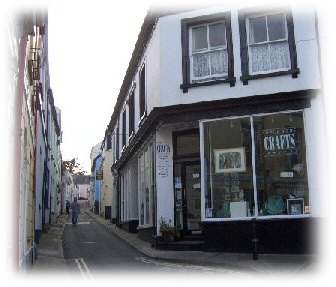 A co-operatively run gallery displaying work ranging from fine furniture, jewellery, metalwork, woodwork, leatherwork, baskets, lighting, original prints and photos, ceramics, textiles and glass, and is staffed by the members themselves.